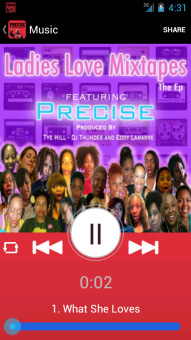 Tag:
BB10
Precise
Overview :
free Precise for blackberry 10 apps
"Born in Chicago, IL, I began my journey into the entertainment industry at the age of 17, passing out flyers for the legendary House DJ Ron Hardy Party at the Music Box. I went to Columbia College of the Arts and majored in music business education. I took a music publishing class where my instructor gave me a C Plus.
I moved to Los Angeles, CA. and broke into the music business as the recording artist MC 2D, and was featured on urban radio station 92.3FM, The Beat. I learned what genre of Hip-hop music I wanted to immerse myself into... and that's underground Hip-hop. The consciousness in the lyrics is my personality and character.
The artist takes the road less traveled to get to where they want to go, so I moved back to Chicago and got into street promotions. I hung out at Record Pools, where I learned how to be a better promoter.
In the summer of 1998 I got a call from legendary Hip-hop DJ Jesse De La Pena to run street promotions for his party, The Blue Groove Lounge at the Double Door. I met many people who are still instrumental to my career to this day. With the help of 3 Degrees promoter Priti Gandhi and The Way We Were promoter Reggie Corner, I got back into being a house music party promoter. In 2008 I started my own independent record label, Take Axshun Music Inc. for R&B, soul and house music records. My music industry journey has led me onto the underground Hip-hop road.
Supported Devices:
BlackBerry Classic
BlackBerry Leap
BlackBerry Passport
BlackBerry Q10
BlackBerry Q5
BlackBerry Z10
BlackBerry Z3
BlackBerry Z30
Porsche Design P9982
Porsche Design P9983