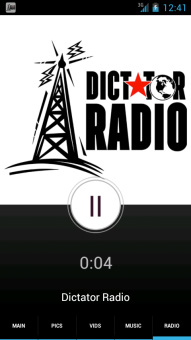 Tag:
Radio
Dictator
Overview :
Dictator Radio 1.0.2300 for blackberry classic, passport apps
Dictator Radio "Dr Jams"
Thank You For Choosing To Download The Dictator Radio Station App On To Your Mobile Device. With This App You Can Stream Music & Watch Music Videos From Today's & Yesterdays Top Recording Artists 24/7 Around The Clock.
Located In Atlanta,Georgia, Dictator Radio Station Plays A Variety Of Music,Mix Shows & Interviews. For Your #1 Source Of Some Of The Hottest Radio Edited Mixes & Mix Shows From Some Of The Most Talented DJ's In The Country.Our Stations Line Up Of DJ's Are DJ Big Vic XL,DJ Blendz,DJ Dagwood,DJ Feel X, DJ Goldfinger,DJ Ralow Smith,DJ Tremayne,DJ Triple J,DJ Sir Classic, Just To Name A Few.
Keeping Your Day Going Either At Work,At Home Or Simply Commuting From One Place To Another. Dictator Radio Station App Will Keep You Informed On The Latest News & Entertainment.
These Are Genres Of Music That The Station Plays:
1.Afro Beat
2.Bass
3.Blues
4.Comedy
5.Dubstep
6.EDM
7.Gospel
8.Hip Hop
9.House
10.Jazz
11.Pop
12.Reggae
13.Talk
14.Trance
15.Trip Hop
Supported Devices:
BlackBerry Classic
BlackBerry Passport
BlackBerry Q10
BlackBerry Q5
BlackBerry Z10
BlackBerry Z3
BlackBerry Z30
Porsche Design P9982
Porsche Design P9983