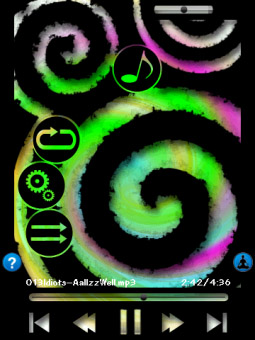 Tag:
Animated
Player
Overview :
A Music Player with Animated Themes 6.0 - Application presents, one of the most awaited Animated Music Player. Animated player background during music play.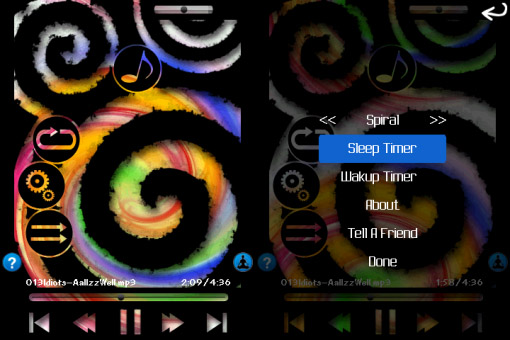 Version: 1.1
File Size: 5 MB
Required: 7.0.0 or higher
Model: Blackberry 9220, 9300(Kepler), 9320, 9330, 9350, 9360, 9370, 9380, 9620, 9790, 9350, 9360, 9370, 9850, 9860, 9900, 9930, p9981


View a brief demo of application (running on storm 9500) on YouTube: http://www.youtube.com/watch?v=6DSSlrXZJLo
Application offers following two animated skins:
1. Dancing Babe: A beautiful girl (Clip Art) dances during the music play on dancing floor with animated colorful background.
2. Spiral Skin: Colorful animated background during music play.
TOUCH THE ANIMATED SCREEN (Touch Devices) PRESS SPACE BAR (Non-Touch Devices) TO CHANGE ANIMATED SKIN COLOR DURING MUSIC PLAY.
Supports most of the popular audio formats: mid, mp3, wav, amr, gsm, mp4, aac, wma, qcp.
Application Features:
- Animated music player skins.
- BACK GROUND PLAY: Play back songs, while working on other apps
- SLEEP TIMER: To stop player after set duration.
- WAKEUP ALARM: Starts selected songs play on set time
- Meditation and relaxation tunes.
- Both Skins has full music player features
- Full access to music library
- Make playlists of your favorite songs
- Change skin while playing music
- Auto-pause & resume on call receive
Player Features:
- Meditation tunes
- Smooth volume control
- Quick seek - FF & RW
- Track name and media art work
- Shuffle
- Play repeat
- Track selection
- Play progress
Meditation and relaxation tunes:
1. First to Rise: Music tune to start your day.
2. Horizons: Periodic choir music.
3. Mountains: A folk music tune with calmness of mountain and nature.
4. Kinder-garden: A perfect tune for kids, it plays like poems & songs.
Application is recommended for every music lover. Application has made play music simple and attractive.