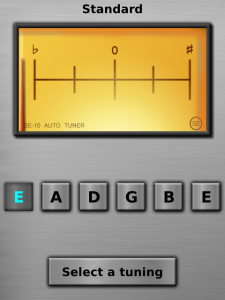 Tag:
Guitar
Tuner
SE
Scott Erkkil
Overview :
Guitar Tuner SE v1.0.0 for blackberry bold apps
OS 5.0,6.0,7.0
Model: Pearl 9100 3G, Pearl 9105 3G, Curve 8520, Curve 8530, Curve 8900, Curve 8910, Curve 8980, Bold 9000, Curve 9300 3G, Curve 9330 3G, Tour 9630, Bold 9650, Style 9670, Bold 9700, Bold 9780, Bold 9788, Curve 9350, Curve 9360, Curve 9370, Storm 9500/9530, Storm2 9550/9520, Torch 9850/9860, Torch 9800, Bold 9790, Torch 2 9810, Bold 9900/9930, 9981

Description:
Guitar Tuner SE for BlackBerry® listens to the sound made by your guitar string and indicates whether it's in tune, flat or sharp. Just pluck the string and in moments the needle accurately indicates the string's frequency. There are 11 pre-set tunings to choose from, but you may add almost endless numbers of custom tunings and revisit them later. Guitar Tuner SE tunes 6-string guitar, 4-string bass, 5-string bass, and 6-string bass.
Pre-set tunings (remember, you can add your own tunings too):
E A D G B E (Standard)
D A D G B E
D A D G A D
D A D F# A D
D G D G B D
C G C G C E
C G D G A D
Bass E A D G
Bass D A D G
Bass Eb Ab Db Gb
Bass Db Ab Db Gb
Notes available to tune with are A (27.5 Hz) to E (659.2 Hz) on the chromatic scale.
Give this awesome looking, accurate guitar tuner a try!
Release note: If you have an OS5 or OS6 phone with version 1.1 installed, you should be receiving a notification to download an improved version soon. The most recent program upgrade (version 1.2) for OS5 and OS6 phones improves the speed of analysis by about 300%. OS7 users are already getting this similar speeds with v1.0.
Thank you to the customers for purchasing this application and giving feedback. With your feedback, this program can get better and better!
If you have a company issued device and the ability for third party applications to record through the microphone has been blocked as a security measure, this application may install but will not function. If you have a company issued device, ensure this security measure is not in place before purchasing this application.