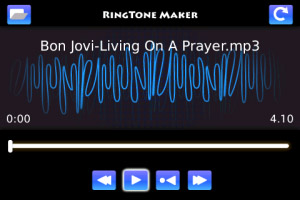 Tag:
Ringtone
9800 apps
Creator
Overview :
Ringtone Creator v3.5.3 for os4.7-7.0 download
OS 4.7,5.0,6.0,7.0
size:237 KB
model:Pearl 9100 3G, Pearl 9105 3G, Curve 8520, Curve 8530, Curve 8900, Curve 8910, Curve 8980, Bold 9000, Curve 9300 3G, Curve 9330 3G, Tour 9630, Bold 9650, Style 9670, Bold 9700, Bold 9780, Bold 9788, Curve 9350, Curve 9360, Storm 9500/9530, Storm2 9550/9520, Torch 9850/9860, Torch 9800, Bold 9790, Torch 2 9810, Bold 9900/9930, 9981

Description:
**AWESOME Ringtone Creator for your phone**
Easily create your own Ringtones directly from your BlackBerry

Ringtone Creator app allows you to create ringtones from the MP3 files on your phone. Just open Ringtone Creator and select the song from your SD card and start editing. Ringtone Maker also allows you to fine tune the ringtone length and match to the sound you are looking for. Its a great app to make customized ringtones.
No more boring ringtones!!
Features:
• Simply choose a song, select a starting point and save your new Ringtone file
• Users can also set the end point if desired
• Use any songs stored in your BlackBerry® or on a media card to create your Ringtones
• Ringtones can be stored on your BlackBerry® or media card
• No computer software is required
• No subscription or monthly fees
• Only MP3 files are supported
• Does not come with any songs
• Fine tune your ringtones and make them sound great