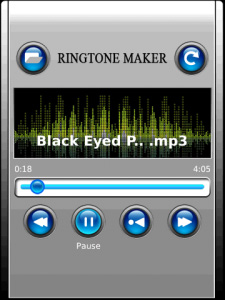 Tag:
Ringtone
Maker
Overview :
Ringtone Maker v2.0 for blackberry applications
File Size: 939 KB
Required Device Software:
Smartphone: 4.5.0 or higher

Description:
***DON'T MISS THIS LIMITED TIME HOLIDAY DISCOUNT! MP3 Ringtone Maker easy and fun to use*** **
**AWESOME Ringtone Maker for your phone**
Easily create your own Ringtones directly from your BlackBerry.

Ringtone Maker app allows you to create ringtones from the MP3 files on your phone. Use Record button to record a section or you can slide the start and end points in the time stamps. Edit and Save the files and your ringtones are ready to buzz!
No more boring ringtones!!
Features:
• Simply choose a song, select a starting point and save your new Ringtone file
• Users can also set the end point if desired
• Use any songs stored in your BlackBerry® or on a media card to create your Ringtones
• Ringtones can be stored on your BlackBerry® or media card
• No computer software is required
• No subscription or monthly fees
• Only MP3 files are supported
• Does not come with any songs