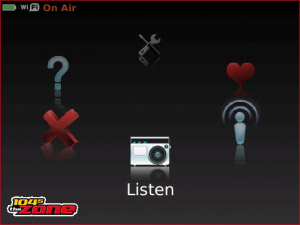 Tag:
104-5 The Zo
Overview :
free 104-5 The Zone v2.4 for blackberry apps
File Size: 780 KB

Description:
**IMPORTANT** Once installed, select 'YES' to grant Trusted status to the App. This will permit internet radio streaming (No personal information is accessed by the app). The app can then be found in your Downloads or Applications folder. Note that some BlackBerry® device configs will not be able to stream live radio.
104-5 The Zone is Nashville's home for Sports. We begin each morning with
The Wake Up Zone with Mark Howard, Frank Wycheck and Kevin Ingram. From
10am-Noon Dan Patrick brings you the latest National sports news. Jonathan
Hutton and Chad Withrow bring you live and local sports talk in your midday;
and the 3HL crew of Brent Dougherty, Clay Travis and Blaine Bishop offer a
local perspective to National sports.
In addition to our daily programming, 104-5 The Zone is your home for the
Tennessee Titans and Tennessee Volunteers.
No One Beats Zone Coverage