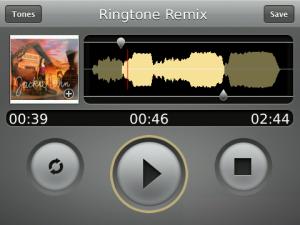 Tag:
Ringtone
Remix
Overview :
Ringtone Remix v1.0.1 apps for blackberry

Create your own free MP3 ringtones from the music you already own - Ringtone Remix gives you all the power you need to make great ringtones on your BlackBerry® - from the songs in your own music collection!
Making tones is easy - simply pick a track, select the region you want from the real music waveform then save the tone. Use the tones you create as ringtones for your contacts or use them as Calendar alerts.
Ringtone Remix has a zoomable waveform showing the music you've chosen, so you can easily pick the exact piece of the track you want - simply slide the start and end sliders into position and press the "Save" button. Your tone will be saved, ready for you to pick it as a ringer, contact tone or alarm tone.
Features:
• Choose any song from your music collection to use as a ringtone
• Zoom in and choose your favorite part of the song to use as the tone
• Make and use tones directly from your BlackBerry
• Pick MP3 or M4A (non-DRM) tracks for your tones
• Preview tones you're making - even hear how they'll loop
• Use your tones for ringers, custom contact ringtones and alert tones
Model:
Blackberry 89XX Curve Series (480*360): 8900(Javelin), 8910(Atlas), 8930, 8950, 8980/Blackberry 90XX Bold (Onyx) Series (480*320) Devices Models: 9000, 9020(Onyx)/Blackberry 96XX Tour (Niagara) Series (480*360):9600, 9630, 9650(Tour2), 9700(Bold2), 9780 /Blackberry 95XX Storm Series (360*480):9500, 9510, 9520, 9530, 9550(Storm2), 9570(Storm3), 9800(Torch)/Blackberry Pearl 3G Series (360*400) Devices Models: 9100, 9105, 9670(Style)