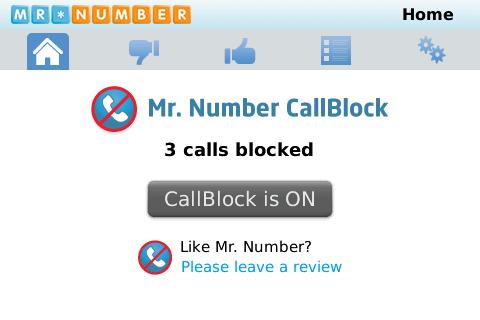 Tag:
Number
Call
Block
Overview :
Mr. Number Call Block v3.29 apps for blackberry

NEW: Mr. Number is the first and only app for BlackBerry® smartphones that can block both calls and texts!
Mr. Number Call Block is a powerful free call and text blocker. It comes from the team that brought you Mr. Number Caller ID.
It's fully customizable. You can block a single phone number or a contact, block private numbers, block a whole area code, or block the world. You can also create a whitelist of people who always get through. Hate your hometown but love your Mom? Block the area code and add her to the whitelist.
NO MORE SPAM CALLS
Mr. Number Call Block really excels in blocking telemarketers. Our apps can detect spam calls automatically based on the pattern of calls to our users. People who use our apps and visitors to our website also send us more than 2,000 reports each day about telemarketers, debt collectors, and other telephonic plagues. Mr. Number Call Block uses this data to block spam callers automatically.
Mr. Number lets you know about every call and text it blocks with a notification in your inbox. TMI? Launch the app and turn that off from the menu. You can also check the History tab in the app for a log of every call and text blocked or let through and why.
Got an idea? Write to us at support@mrnumber.com
Features:
* Block text messages as well as calls
* Choose how to block calls (send to voicemail or hang up)
* Automatically block tens of thousands of known telemarketers
* Block one number, a contact, an area code, or the world
* Block private and restricted numbers
* Create a whitelist and block everyone else
* History of every call and text blocked and why
* Notifications of blocked calls in your inbox (optional)
* Big easy on/off button in case you change your mind
Model:
Blackberry 9300(Kepler), 9330/Blackberry 89XX Curve Series (480*360): 8900(Javelin), 8910(Atlas), 8930, 8950, 8980/Blackberry 90XX Bold (Onyx) Series (480*320) Devices Models: 9000, 9020(Onyx)/Blackberry 96XX Tour (Niagara) Series (480*360):9600, 9630, 9650(Tour2), 9700(Bold2), 9780 /Blackberry 95XX Storm Series (360*480):9500, 9510, 9520, 9530, 9550(Storm2), 9570(Storm3), 9800(Torch)/Blackberry Pearl 3G Series (360*400) Devices Models: 9100, 9105, 9670(Style)