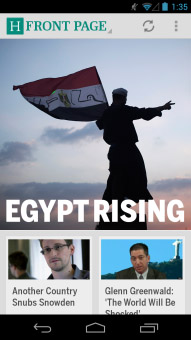 Tag:
Huffington
Post
Overview :
Huffington Post 1.0.119 for blackberry apps
Take the Huffington Post with you via your BlackBerry® device, and get the latest news and opinion -- even when you are on the go. The Huffington Post BlackBerry® application is absolutely free. It can be downloaded from the BlackBerry® App World™ and installed on your BlackBerry® Device.
Featuring real-time updates from HuffPost's Pulitzer-prize winning newsroom, the app lets your voice be heard by commenting on articles, and sharing your favorite stories and opinion pieces with friends, family, and coworkers in your social networks. The new "universal" version of the app supports multiple devices -- including phones, and 7-inch and 10-inch tablets, both with grid and list layouts -- and also offers a unique "night mode" feature. You can also download stories for offline reading – no connections needed. And it's global – our app connects you with the best from our international editions, including the UK, Canada, France, Germany, Spain, Italy, and Japan.
Users NOTE: For OS6 BlackBerry® users the delivery is a native application. For users of legacy OS devices below OS6 the delivery is a launcher that runs the specifically designed BlackBerry® Mobile Huffington Post Website.