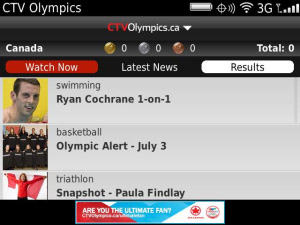 Tag:
London
CTV Olympics
Overview :
CTV Olympics London 2012 v1.0.10 for blackberry apps free download
Required Device Software:
Smartphone: 6.0.0 or higher

model: Curve 9300 3G, Curve 9330 3G, Tour 9630, Bold 9650, Style 9670, Bold 9700, Bold 9780, Bold 9788, Curve 9350, Curve 9360, Curve 9370, Storm 9500/9530, Storm2 9550/9520, Torch 9850/9860, Torch 9800, Curve 9380, Bold 9790, Torch 2 9810, Bold 9900/9930, 9981

Description:
Don't miss a minute from London with live video coverage from the Olympic Games, including live streaming of CTV, TSN and Sportsnet (DC1) Olympic broadcasts and video highlights of the best Canadian and international performances. Also, keep up to date with very latest news and results from London, and find out what's on TV in the Viewers' Guide.

Hope you like it.