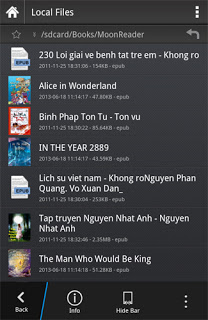 Tag:
Moon+ Reader
Overview :
Moon+ Reader v1.9.6.2 - On the BlackBerry OS has a lot of applications that support e-readers such as: Mobile pocket reader, Epub Reader, Amazon Kindle, ... but the BlackBerry 10 operating system, the application does not have much support in reading.

Model:
Blackberry 10 Devices: Blackberry Dev Alpha, Blackberry Z10, Blackberry Q10, Blackberry Q5
Blackberry Playbook: Tablet: 1.0.0 or higher / 2.0.0 or higher

Description:
Moon + Reader is one of the applications from Android but good support for both the BlackBerry PlayBook and Z10. The presence of Moon + Reader on BB10 contribute to the expansion of choices for the user in finding an appropriate application for demand.
Features of the application:
Supported formats txt, html, epub, FB2, umd and zip.
Many formatting options: line space, font scale, shadow, alignment, alpha colors, fading edge and more.
Theme support, with daytime reading mode / night.
Many flipping pages: touch screen, volume keys, camera button.
Automatic indentation, remove excess blank lines
Nice page flipping effect
Bookshelf can sort by author, tags, favorites
Support Bookmark, Highlight, Annotation, Dictionary, Share functions.
Note:
When you copy, the copy books at the following URL: Misc \ android \ Books \ MoonReader