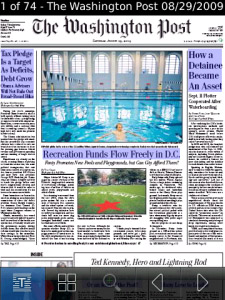 Tag:
PressReader
Overview :
File Size: 232 KB
Required Device Software:
Smartphone: 4.6.0 or higher
Model: 8220, 8330, 8350, 8520, 8900, 8980, 9000, 9100, 9105, 9300, 9330, 9630, 9650, 9700, 9780, 9788

Description:
Are you looking to access over 2,100 newspapers and magazines on your BlackBerry® PlayBook™? Then make sure to check out PressReader for BlackBerry PlayBook: http://appworld.blackberry.com/webstore/content/52138?lang=en
Looking to have over 2,100 of the world's most popular newspapers and magazines at your fingertips? Then look no further than PressReader from NewspaperDirect.
With PressReader, publications are presented as full-content digital replicas, in their original layout. Users can easily flip pages and view any article or photograph in stunning clarity, plus:
• Program automatic downloads of publications as soon as they are published
• View easy-to-read text or full graphics views
• Enjoy intuitive navigation
• Search
With PressReader, subscribers can now effortlessly read their favorite publications offline, just as they would online.
Don't have an account? No problem. For the price of a local newspaper on the street, you can download any of our growing list of prestigious international, national and local titles PressReader has to offer, wherever you are.
Setup instructions:
PressReader uses a direct connection on the BlackBerry, not the BlackBerry Enterprise Server.
Therefore, you must set your TCP parameters on your device before using PressReader.
Go to Options/AdvancedOptions/TCP and enter the WAP settings for your specific service provider. These will be different for every service provider. The following are the WAP settings for Rogers in Canada:
APN settings enable: yes
APN: internet.com
APN Authentication enabled: yes
Username for APN: wapuser1
Password for APN: "wap"
Check with your service provider for their WAP settings.