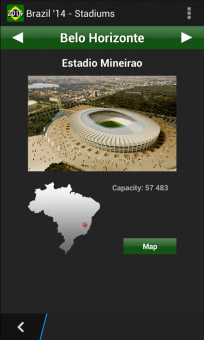 Tag:
Brazil
Overview :
All matches in the World Cup in Brazil in 2014 with live scores, integration with calendar and maps. The most important football tournament in the world in this app that works offline and updates all the data when a connection is available, just one tap and any game is added to your calendar.
32 countries dispute the title of the soccer's world's champion in Brazil.
Take the most complete app and be informed about everything that happens in Brazil in 2014.
Key features:
- Countdown to the start of the World Cup;
- Live scores;
- Schedule of matches displayed on your timezone;
- Current squad;
- World Champions;
- Integration with Calendar;
- Integration with Maps for all venues.
-DISCLAIMER: The use of any team names, words, trademarks, logos, or photos have been used for Descriptive Purposes only and not to show endorsement or permission to use. We are not affiliated with FIFA, nor do we have any licenses or strategic alliances with any sporting team or sporting association. All and any copyrights, trademarks, trade names used with this application are for descriptive purposes only. All trademarks, logos and copyrights are property of their respective owners.
model:
BlackBerry Q10
BlackBerry Q5
BlackBerry Z10
BlackBerry Z3
BlackBerry Z30
PlayBook