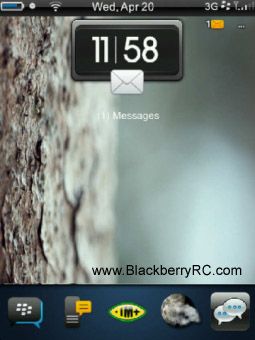 Tag: 9800 themes torch Redox
Overview :

Redox for torch 9800 themes os6 - Redox was built with the means to show off the yummyness of the icon set. With never before seen icons that have been tweaked Redox is sure to look spectacular on your BlackBerry®. Having a nice clear view of your wallpaper is not all you get. You will also get a nice big clock in the middle top of the screen with a weather slot and it sure does look good! Grab Redox today to bring something beautiful to your BlackBerry!


Hidden dock - (6 icons for keyboard devices, 5 icons for touchscreen and BlackBerry® Style™/BlackBerry® Pearl™ 3G devices)
Weather slot - (You must have a paid or free weather app installed and placed in the first position of your applications screen)
Big clock
Homescreen landscape mode NOT supported for touchscreen devices
Transitions throughout
No carrier
Wallpaper friendly

size: 988 kb

model: 9800 os6 theme

enjoy!