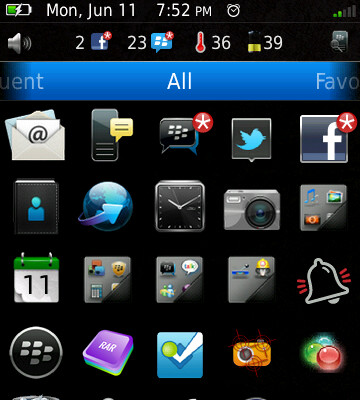 Tag:
Pearl
9105 themes
Seven Point
Overview :
Seven Point Five for 9100,9105,9670 os6 themes - has been meticulously designed and built to offer your BlackBerry the very best look. Seven Point Five pulls inspiration from right across the BlackBerry range, with icons and folders mimicking the PlayBook OS2 style, to the stylish BBMMusic skin for the media player this is a theme that just feels perfect on your BlackBerry.

Version: 2.1
File Size: 2464 KB
Compatible: BlackBerry Pearl 9100, 9105, 9670 OS 6.0
Description:
OS6 users will find not only this but also the menus and media sections have been skinned (see pictures) to match the OS7 style, giving your device a total transformation.
Other custom items include a small banner so you can see your wallpaper far better, a custom blue LCD display inside the calculator to match the blue highlight keys, the ability to add custom folders that keep the look of the theme throughout, a fully themed application banner, with custom battery wifi and signal meters within all apps, the tab selector in the browser matches the PlayBook`s browser UI and a stunning metallic background for the compass too.
We strongly reccomend a reboot once your theme has activated.