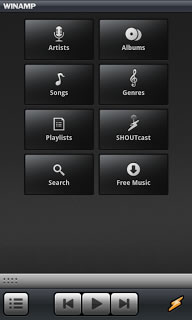 Tag:
Q10 apps
Winamp
Overview :
Winamp
is a classical music player software with a history , has been with small size, powerful was deeply loved by the masses of fans with high praise.
Version:
1.4.15
file size: 6.56 mb
Model:
Blackberry 10 Devices: Blackberry Dev Alpha, Blackberry Z10, Blackberry Z15, Blackberry Z30, Blackberry A10, Blackberry Q30, Blackberry Q10, Blackberry Q5
Blackberry Playbook: Tablet: 1.0.0 or higher / 2.0.0 or higher
Description:
Play, manage and sync music from your Mac or PC to your Android device. Winamp for Android offers a complete music management solution (2.1 OS & above) featuring wireless desktop sync (latest Winamp Media Player required), iTunes library import, & access to thousands of internet radio stations with SHOUTcast.
Features:
* Free Wireless syncing
* Now Supports syncing with Winamp for Mac (beta)
* One-click iTunes library & playlist import
* Over 50k+ SHOUTcast radio stations
* SHOUTcast Featured Stations
* Persistent player controls
* Easily collapsible/expandable Now Playing screen
* Artist news, bios, photos & discographies
* Extras Menu - Now Playing data interacts with other installed apps
* Album art gesturing for track change
* Integrated Android Search & "Listen to" voice action
* Browse by Artists, Albums, Songs or Genres
* Playlists and playlist shortcuts
* Play queue management
* Widget player (4x1 & 4x2)
* Lock-screen player
* Last.fm Scrobbling
* Available in 14 languages
What's New
New in Winamp 1.4.15
* Fixed: Crash that may occur when starting Winamp and turning on Lyrics feature with no network connectivity.