Tag:
BB10
SoundHound
Overview :
Remember i sigh for the magic of the science andthe technology when I first used SoundHound , now the old music recognition software on the BlackBerry platform 10. SoundHound could through a microphone and identify what you play music from the Internet search, relies on the powerful database, SoundHound recognition rate is very high. Application software is free, what are you waiting for, timely download to use.

Version: 1.0.1
File Size: 2 MB
Required Device Software BB10 Smartphone: 10.0.0 or higher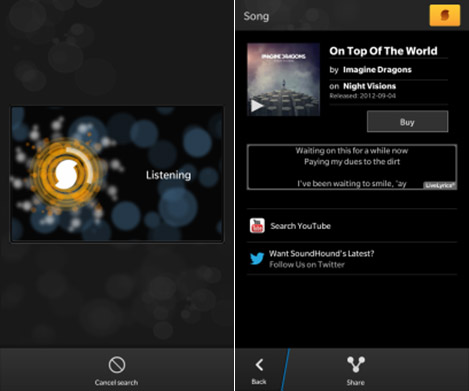 Unlimited music recognition! Identify music or a singing search with the touch of a button. SoundHound is instant music and discovery.
Features:
◦ Blazing fast music recognition
◦ The world's only singing and humming recognition
◦ LiveLyrics: see lyrics move in time with the music
◦ Buy links, YouTube videos, track previews and more!