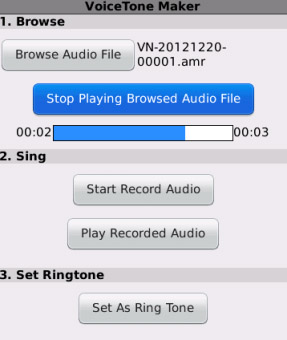 Tag:
9981 apps
VoiceTone
Overview :
VoiceTone Maker 1.0 for bb os5.0+ apps
File Size: 27 KB
Required Device Software Operating System: 5.0.0 or higher
Model:
Blackberry 89XX Curve Series (480*360): 8900(Javelin), 8910(Atlas), 8930, 8950, 8980/Blackberry 90XX Bold (Onyx) Series (480*320) Devices Models: 9000, 9020(Onyx)/Blackberry 96XX Tour (Niagara) Series (480*360):9600, 9630, 9650(Tour2), 9700(Bold2), 9780, 9790, Dakota, Apollo /Blackberry 95XX Storm Series (360*480):9500, 9510, 9520, 9530, 9550(Storm2), 9570(Storm3)/Blackberry Torch Series: 9800(Torch), Torch2, 9810, 9860/Blackberry Pearl 3G Series (360*400) Devices Models: 9100, 9105, 9670(Style)/Blackberry 99XX (OS 7.0) Series (640*480) Devices Models: 9900, 9930, 9981

Description:
VoiceTone Maker – Combine your voice together with background music to be ringtone! VoiceTone Maker is an application that able to combine your voice and your audio file together. All the combined songs will be able to be set as your BlackBerry® Ringtone and it supports MP4, MP3, WMA, WAV and other audio formats to be browsed as your background music. Everyone can be an Artist using this VoiceTone Maker now! Let's browse your background music from your BlackBerry and sing to combine together now.
Note: You can find your customization song in "user" directory in your device as "vixsoRingToneFile.amr". (/home/user/ vixsoRingToneFile.amr).