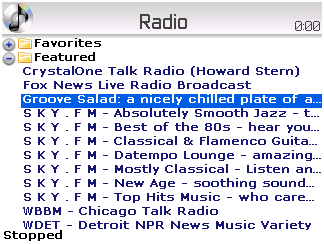 Tag:
BerryTunes
Overview :
BerryTunes v2.5 apps for blackberry

Turn your BlackBerry into a portable sound machine with BerryTunes!
Listen to audio files, live Internet radio and streaming podcasts right from your BlackBerry!
You can output the music through the speaker, a wired headset, a Bluetooth earpiece or even a stereo Bluetooth headset.
Listen to over 100 streaming internet radio stations on your BlackBerry. Choose from 20 categories, including Rock, Pop, Classical, Jazz, News, etc. with no monthly subscription required!
A wide variety of streaming podcasts are available or you can add your own. You can choose from over 20 categories including music, news, sports and travel. We even feature several BlackBerry related podcasts. Most Podcasts can be stopped and resumed where you left off.
BerryTunes includes MP3 file transfer software for Windows to transfer your MP3 files via the USB cable. The MP3 Browser for Windows allows you to easily select the MP3 files you want to send to your BlackBerry. You can even preview your songs in the MP3 Browser before transferring them to your BlackBerry.
BerryTunes can store your songs on a SD memory card (recommended) or use the internal memory of the BlackBerry.
Features:
* NEW! Listen to NOAA Weather Radio
* NEW! Improved Single Click Navigation
* NEW! Pause an MP3 file and resume later
* Listen to Streaming Radio & Podcasts!
* Audio Formats (MP3, AAC, M4A, MIDI, WAV, WMA)
* Stereo Bluetooth Support
* New File Navigation for Audio Player
* Add Preset Stations and Podcasts to Favorites
* Update BerryTunes OTA from the menu
* Listen to Live Internet Radio Stations
* Add and edit your own Internet radio stations
* Select between Wifi and Mobile Network (Wifi Devices only)
* Status bar scrolls full station name
* Store files on SD card or internal memory
* Listen through headphones, speakers, or bluetooth
* Transfer via USB cable
* Preview music before sending
* Easy to use MP3 Browser for Windows
* Automatically converts files to optimal format
* Choose Encoding (128K, 64K, 32K, or None)
* Fast Forward / Rewind using the trackball
* Time Counter displayed on screen
* Adjust volume with BlackBerry volume keys
* Player pauses on incoming phone call
* Shuffle the order of your songs on the BlackBerry
* Supports password protected devices
Note: Not All Models support Stereo Bluetooth
NEW! Version 2.5 Supports Streaming Podcasts and Stereo Bluetooth!
BerryTunes 2.5 requires OS 4.2.1 or greater
Model:
Blackberry 72XX Series (240*160) Devices Models: 7200, 7210, 7230, 7250, 7270, 7280, 7290, 7510, 7520, 6510/Blackberry 71XX Series (240*260) Devices Models: 7100, 7110t, 7105t, 7100r, 7100v, 7100g, 7100x, 7100i, 7130e, 7130c, 7130g, 7130v/Blackberry 81XX Series (240*260) Pearl Devices Models: 8100, 8110, 8120, 8130/Blackberry 82XX Series (240x320) Pearl Flip Devices Models: 8200, 8220, 8230/Blackberry 8350i (320*240) Related Devices Model: 8500, 8520, 8530/Blackberry 83XX Series (320*240) Curve Devices Models: 8300, 8310, 8320, 8330 / Blackberry 87XX Series (320*240) Devices Models: 8700c, 8700r, 8700f, 8700g, 8703e, 8707, 8707g, 8707v .etc /Blackberry 88XX Series (320*240) Devices Models: 8800, 8820, 8830 .etc /Blackberry 89XX Curve Series (480*360): 8900(Javelin), 8910(Atlas)/Blackberry 90XX Bold (Onyx) Series (480*320) Devices Models: 9000, 9020(Onyx)/Blackberry 96XX Tour (Niagara) Series (480*360):9600, 9630, 9650(Tour2), 9700(Bold2) /Blackberry 95XX Storm Series (360*480):9500, 9510, 9520, 9530, 9550(Storm2)/Blackberry Pearl 3G Series (360*400) Devices Models: 9100, 9105