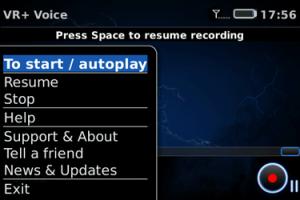 Tag:
Record your
Overview :
Model:
Blackberry 82XX Series (240x320) Pearl Flip Devices Models: 8200, 8220, 8230/Blackberry 8350i (320*240) Related Devices Model: 8500, 8520, 8530/Blackberry 83XX Series (320*240) Curve Devices Models: 8300, 8310, 8320, 8330 / Blackberry 87XX Series (320*240) Devices Models: 8700c, 8700r, 8700f, 8700g, 8703e, 8707, 8707g, 8707v .etc /Blackberry 88XX Series (320*240) Devices Models: 8800, 8820, 8830 .etc /Blackberry 89XX Curve Series (480*360): 8900(Javelin), 8910(Atlas)/Blackberry 90XX Bold (Onyx) Series (480*320) Devices Models: 9000, 9020(Onyx)/Blackberry 96XX Tour (Niagara) Series (480*360):9600, 9630, 9650(Tour2), 9700(Bold2) /Blackberry 95XX Storm Series (360*480):9500, 9510, 9520, 9530, 9550(Storm2)/Blackberry Pearl 3G Series (360*400) Devices Models: 9100, 9105
Description:
Turn your BlackBerry into a dictaphone! Besides a convenient Voice Recorder you get a Voice Messenger and a Voice Sharing tool for Facebook, MySpace, Twitter, Blogger in one app. Send voice emails in MP3 and share your voice to social networks for playing back on any Mac, PC or mobile.
You can make your own podcasts, listen to them and let others hear your reviews, advice or impressions. A voice memo can be transcribed into text and e-mailed to you within minutes.
Lite mode will let you keep using VR+ for free after the trial period is expired, but with few functional limitations.
Features:
Lite mode:
A text tag is inserted in the recording comments and message
A sound tag is inserted in every recording
You can't change an existing recording insert - overwrite - continue.