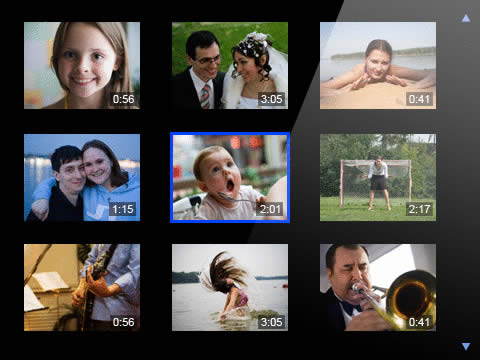 Tag:
Browser
Good Video
Overview :
Good Video Browser - blackberry apps download
Description:
UPDATED! Now supporting MP4 video files, encrypted content and expanding search to Memory Card root folder.
"it's a simple application that does exactly what it's supposed to do, and does it well" (CrackBerry)
All the videos on your phone are scanned and organized into a gallery, where you can actually see the thumbnails of all your videos. It's easy to find the right video and it's just as easy to share it with your friends and family!
You can forget about scrolling through meaningless filenames of your videos! Good Video Browser is so convenient even little kids will enjoy playing with it!
ENJOY YOUR VIDEOS!!
Features:
MP4 and 3GP file support
Encrypted media support
Intuitive, convenient browsing of all your videos
Videos are automatically found and added to the gallery
Share videos via email
Delete unwanted videos
Model:
Blackberry 8350i (320*240) Related Devices Model: 8500, 8520, 8530/Blackberry 89XX Curve Series (480*360): 8900(Javelin), 8910(Atlas)/Blackberry 90XX Bold (Onyx) Series (480*320) Devices Models: 9000, 9020(Onyx)/Blackberry 96XX Tour (Niagara) Series (480*360):9600, 9630, 9650(Tour2), 9700(Bold2) /Blackberry 95XX Storm Series (360*480):9500, 9510, 9520, 9530, 9550(Storm2)/Blackberry Pearl 3G Series (360*400) Devices Models: 9100, 9105