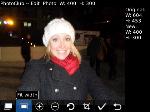 Tag:
PhotoClub
Overview :
Description:
How to achieve? Please post your positive comment in PhotoClub commercial version page.
Kindly use the name from the prefix of your email in the nickname when commenting, so we can know you are really UP us :) Then send your phone PIN # to cs@mmmooo.com, we will unlock for you.
Your PIN number can be located on your BlackBerry smartphone:
1. From the Home screen go to "Options"
2. Select Status.
3. Note your PIN number.
Features:
1.6 functions to deal with your photo, you can use one of them or some of them in one time
2.You can add own custom cliparts or frame
3.Easy to use, speedy in operation
4.Premium & Free link inside to enjoy more than just one art designing from MMMOOO
Tips:
1.You may resize the photo firstly to enjoy a speedy and smooth operation
2.Custom elements must be in transparent .png format
3.To move a clipart in QWERTY models , press 'alt' + navi key to move pixel by pixel, or press 'alt+shift' in speedy
Model:
Blackberry 81XX Series (240*260) Pearl Devices Models: 8100, 8110, 8120, 8130/Blackberry 82XX Series (240x320) Pearl Flip Devices Models: 8200, 8220, 8230/Blackberry 8350i (320*240) Related Devices Model: 8500, 8520, 8530/Blackberry 83XX Series (320*240) Curve Devices Models: 8300, 8310, 8320, 8330 / Blackberry 87XX Series (320*240) Devices Models: 8700c, 8700r, 8700f, 8700g, 8703e, 8707, 8707g, 8707v .etc /Blackberry 88XX Series (320*240) Devices Models: 8800, 8820, 8830 .etc /Blackberry 89XX Curve Series (480*360): 8900(Javelin), 8910(Atlas)/Blackberry 90XX Bold (Onyx) Series (480*320) Devices Models: 9000, 9020(Onyx)/Blackberry 96XX Tour (Niagara) Series (480*360):9600, 9630, 9650(Tour2), 9700(Bold2) /Blackberry 95XX Storm Series (360*480):9500, 9510, 9520, 9530, 9550(Storm2)/Blackberry Pearl 3G Series (360*400) Devices Models: 9100, 9105