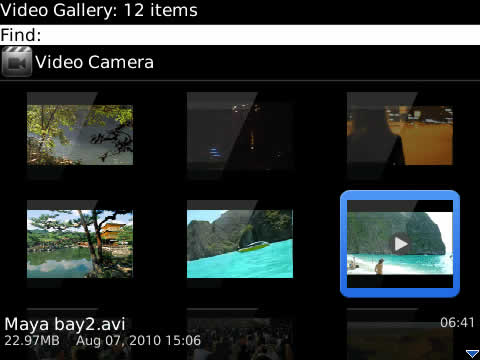 Tag:
Gallery
mVideo
Overview :
Best mVideo Gallery for blackberry apps download

mVideo Gallery lets you view video thumbnails on your BlackBerry. It's easy to find the right video you want and share by Email, MMS and Bluetooth.
Search is simple. Start typing and thumbnails in the results appear instantly as you type.
Features:
Automatically add new video thumbnails.
Delete and rename videos.
Grid view and List view.
Instant preview.
Instant search.
Media Home shortcut.
Share videos via Email, MMS and Bluetooth.
Sort video by name, size, modified date and folder in natural order/ reverse order.
Video recorder shortcut.
Made by: i,SoftwareLabs
Model:
Blackberry 82XX Series (240*320) Pearl Flip Devices Models: 8200, 8220, 8230/Blackberry 8350i (320*240) Related Devices Model: 8500, 8520, 8530, 9300(Kepler), 9330/Blackberry 83XX Series (320*240) Curve Devices Models: 8300, 8310, 8320, 8330 / Blackberry 87XX Series (320*240) Devices Models: 8700c, 8700r, 8700f, 8700g, 8703e, 8707, 8707g, 8707v .etc /Blackberry 88XX Series (320*240) Devices Models: 8800, 8820, 8830 .etc /Blackberry 89XX Curve Series (480*360): 8900(Javelin), 8910(Atlas), 8930, 8950, 8980/Blackberry 90XX Bold (Onyx) Series (480*320) Devices Models: 9000, 9020(Onyx)/Blackberry 96XX Tour (Niagara) Series (480*360):9600, 9630, 9650(Tour2), 9700(Bold2), 9780 /Blackberry 95XX Storm Series (360*480):9500, 9510, 9520, 9530, 9550(Storm2), 9570(Storm3), 9800(Torch)/Blackberry Pearl 3G Series (360*400) Devices Models: 9100, 9105, 9670(Style)