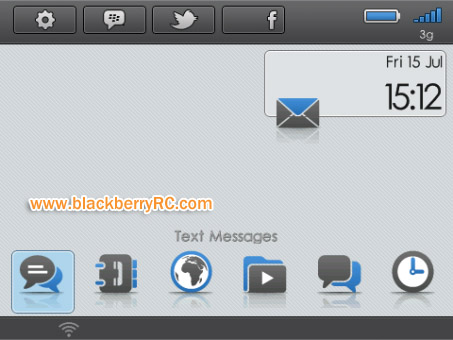 Tag:
ELEGANT
Simple
Theia
Overview :
Theia Simple and Elegant 93xx curve Theme
A simple and elegant theme that offers all the basics for a quick and fully-functional experience. We've taken a simple elemental design and packed it with all the features that most find useful in a theme for their BlackBerry®.
Devices running 5.0: You MUST have Facebook and Twitter installed on your device to utilize the buttons on the home screen banner.
Features:
* 6-9 user-defined icons on the home screen including an extra slot for your favorite weather app
* 4 static icons on the home screen banner include: options messenger twitter and facebook
* Options icon drops down to reveal four essential quick-access icons to profiles ringtones options and manage connections
* Wallpaper friendly
* Custom made icons and graphics throughout
* Supports full landscape mode for BlackBerry® Torch™ and BlackBerry® Storm™ Devices
* Available for all devices running 5.0 and 6.0
* FREE UPDATES (paid versions only)

BlackBerry support model: curve 9300 9330 os6.0
Thanks and hope you enjoy!