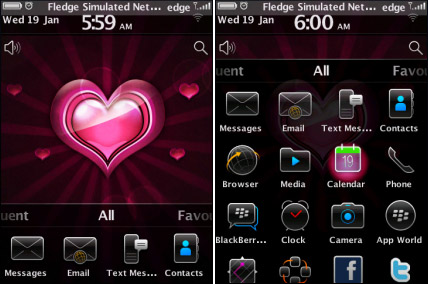 Tag:
9800 themes
torch
Love Is Love
Overview :
Free Valentine's Day Themes 'Love Is Love' By MMMOOO For 9800 OS6.0
Compatible Devices :
Model: Blackberry 9800 torch Series

Romantic Harmony Sweet. The classic and elegant Valentine's Day theme.

Features of MMMOOO Theme:
1. A theme is customized covered from A to Z, fabulous background, icon set, details...
2. Proved nice in operation and looking, you wont get tired even though in days and weeks
3. Free More MMMOOO link inside the theme which helps you leads to Premium & Free ONLY MMMOOO content in shortcut
4. Deliver with 5 premium MMMOOO apps inside with web link. If you dont like them, you can hide them.
Guarantee satisfaction:
MMMOOO welcome your feedback comment, so we can keep leading the tide in art designing of theme. If you find a bug, kindly write email to us, we can provide revision asap, and a bonus free theme as well. Be so kind that don't leave a malicious comment.
made by MMMOOO