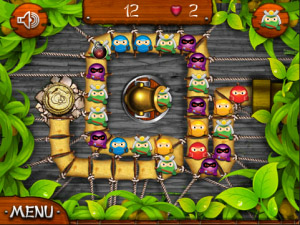 Tag:
Juminja
Overview :
Free Juminja v2.3 games for blackberry phone
File Size: 15096 KB
Required Device Software:
Smartphone: 5.0.0 or higher
model: Pearl 9100 3G, Pearl 9105 3G, Curve 8520, Curve 8530, Curve 8900, Curve 8910, Curve 8980, Bold 9000, Curve 9300 3G, Curve 9330 3G, Curve 9350, Curve 9360, Curve 9370, Tour 9630, Bold 9650, Style 9670, Bold 9700, Bold 9780, Bold 9788, Storm 9500/9530, Storm2 9550/9520, Torch 9800, Torch 9850/9860, Torch 2 9810, Bold 9900/9930

Description:
SALE… get the Premium version of this inspiring game with all levels ABSOLUTELY FREE!
Do you want to know the secret to a good game? Take a few Pandas, add some Ninjas and put them into a crazy fun scenario. Easy, right? Here's how to play: Shoot a canon filled with Ninjas. Shoot 3 of the same color to make them explode. The more you shoot, the faster the Ninjas appear which means the quicker you have to move! Enjoy unique levels of Panda on Ninja action and don't forget to alternate your tapping fingers… this game is so addicting you'll need at least 10! Oh and, you want to know another secret? We had real Pandas play this game and they loved it!

i hope you like it.