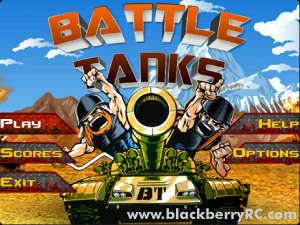 Tag:
9900 games
Battle Tanks
Overview :
Free Battle Tanks v1.4 for 9900, 9930 games
os 7.0
size: 2.53 MB
model: 9900, 9930

Description:
Now experience the classic Pocket Tanks game play on BlackBerry with Battle tanks! Play solo or against friends on turn based two players in a fun and challenging recreation of the classic game!
****Compatible with all devices!
Prepare yourself for battle, absolute carnage is back ! Battle tanks is a challenging physics-based and very interesting tank war game in which you have to destroy and blow the enemy's tanks by proficient firing with deftness.The enemy will be attacking you from their fortifications. Your physics knowledge will come handy when external factors will come into play like terrain, wind and gravity. It has different difficulty levels which will test your skill, logic and requires suppleness to win while doing your best to not die.
So sit back and get Addicted!
Features:-
* Stunning UI
* With background sound
* Fast and simple handling
* Keyboard control
* Different difficulty level