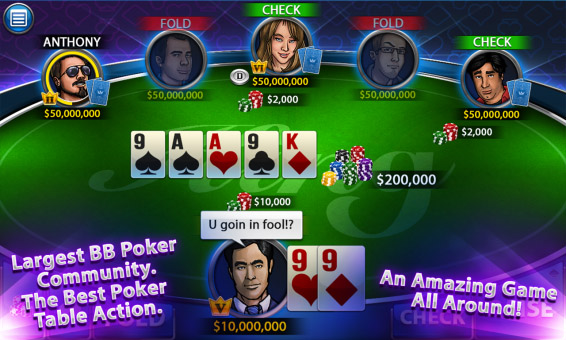 Tag:
PlayBook
BB10
Overview :
Friends who Like playing poker's don't wait to download and install the game "Texas Hold 'em King", the game has one million people online at the same time, at the same time, you also can invite your friends to attend the game in the BBM. All games for free, and support the PLAYBOOK and BB10 all models.
Version: 1.1.1.46
File Size: 14 MB
Required Device Software:
Tablet: 2.0.0 or higher
BB10 Smartphone: 10.0.0.0 or higher
Model:
Blackberry 10 Devices: Blackberry Dev Alpha, Blackberry Z10, Blackberry A10, Blackberry Q10, Blackberry Q5, Playbook
Description:
The premiere poker experience is now on BlackBerry 10 and PlayBook!
Win big, become the ultimate Texas Hold'em Poker King and live the dream…
Game Features:
- Join millions of players in the largest online BlackBerry poker community
- Enjoy a tight, fast paced and immersive 6 player table experience
- Get free chips every day to keep the fun flowing! Create you own table and invite buddies with BBM or NFC!
- Choose your poker face from a rich selection of avatars
- Create a private table and invite your buddies
- Trash talk friends or enemies at the table with live chat!
- More features coming soon. Stay tuned!