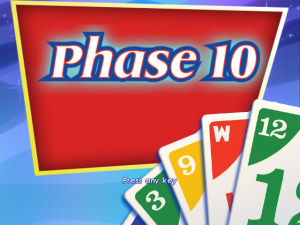 Tag:
Phase
Overview :
Phase 10 v2.0.4 for blackberry phone & playbook Tablet
US$0.99
File Size: 18066 KB
Required Device Software:
Smartphone: 4.5.0 or higher
Tablet: 2.0.0 or higher

Description:
If you like rummy then you'll love Phase 10! The object of the game is to race your opponents and complete your ten phases first. You have to make sure you don't fall behind!
Play one of the best-selling card games of all-time anywhere, any time! Fans of exciting and challenging card games have been playing Phase 10 for more than 30 years. Now you Play Phase 10 on your mobile BlackBerry device, wherever you are.
*******
"This is my favorite card game, and I love the app! The easy/medium/hard levels are great, too. Well worth the price, I've been playing ever since I downloaded it to my device. Now, where's my charger..." -Appworld Review
"I love Phase 10 and this is just like playing in real life with the trash talk and all! :)" -Appworld Review
*******
===================
Follow us on Twitter or Like us on Facebook for Phase 10 Updates!
www.twitter.com/magmic
www.facebook.com/magmic

i hope you like it.