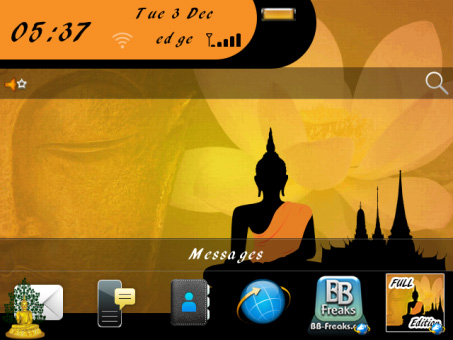 Tag:
golden
99xx theme
Buddha
Overview :
Golden Buddha 99xx FREE Theme
FREE Edition of Golden Buddha Theme by BBFreaks!
Beautiful theme of Golden Buddha! "Is one world that brings peace"
In FULL PAID Version you will be able to change the wallpaper and it will look awesome and also customized icons, customized media player, folder background and MORE!!!
To get the FULL PAID Version of this theme go to: http://appworld.blackberry.com/webstore/content/41841894/
Features:
* The homescreen/lockscreen are completely customized. It uses SVG. (Portrait/Landscape).
* The theme runs smoothly on every BlackBerry® Device.
* The theme is FULLY COMPATIBLE with all O.S. 6.0 / 7.0 / 7.1 Series & CURVE 8520/8530.
Supported Blackberry Cellphone Models Devices:
BlackBerry Bold 9790/9900/9930/p'9981 OS7.0 / 7.1