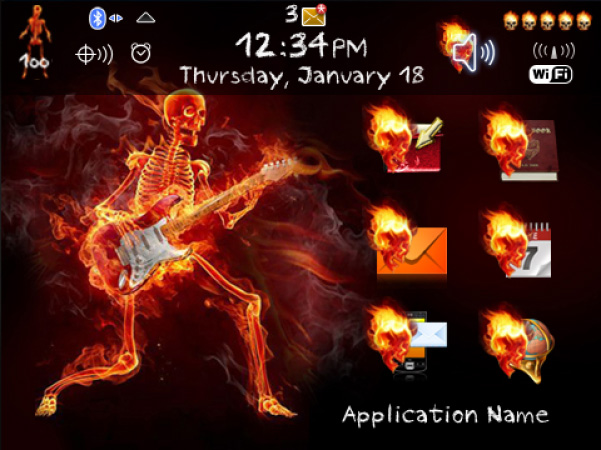 Tag:
Flaming
Skeleton
Overview :
Flaming Skeleton 9900,9930 bold theme
This theme has beautiful high definition Flaming Skeleton Wallpapers .
Definitely you satisfy with this theme
NOTE: Due to Lack of Theme Builder7 Calling Screens are not Customized for OS7 Devices
Features :
* Complete customized theme to give a Awesome look to your BlackBerry
* Customized battery meter
* Customized signal meter
* Customized colorful Icons Set
* Different Flaming Skeleton backgrounds.
* Beautiful font which suitable for theme
To apply theme after successful download and installation:
Navigate to Options - Theme - select newly downloaded theme to apply
We hope you enjoy our Flaming Skeleton Theme!
BlackBerry support model: 9900 9930 p9981
Thanks and hope you enjoy!