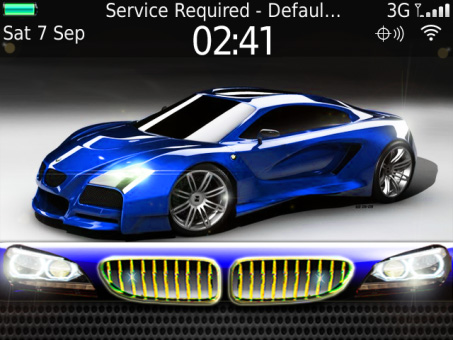 Tag: BM 950i
Overview :
Auto BM 950i V12 FREE (Live Wallpaper) 99xx bb themes



Start Your Engines! Its not a phone.. Its a Car :D

Authentic. Exotic. Powerful. Fast. STEREO

Auto M9: - Superior Quality Designer Luxury Sport Car for BlackBerry®

This Hi-Res Conceptual Sport Car design for BlackBerry® is second to none. Auto M9 brings the inspiration of German engineering to your BlackBerry® phone in FULL STEREO.

With OEM Animated ANGEL EYE HEADLIGHTS, HIGHBEAMS, and signature KIDNEY GRILL, we've left no feature behind. Quite simply, your device is not a phone… It's a Car.

Theme HD Features:

The Car comes fully equipped with:

-Superior Graphics and Detail all the way down to the Cars Clear Coat.

-Hot Keys

5.0-6.0 MANUAL device controls BEAMER M9 Controls:

1. ALT + (*) = 'ANGEL EYES"

2. ALT + (#) = DAY TIME RUNNING LAMPS'

3. ALT + (-) = STOP ALL

4. ALT + (!) = Tint (Home Screen). Hides Animation /Helps Viewing Messages

5. ALT + (+) = Starter

6. ALT = (@) = WALLPAPER

7. SPACEBAR = Dock

8. Back/Arrow Key = Send Dock Away

7.0 - 7.1 AUTOMATIC TRANSMISSION Device Controls

-Automatic Transmission device controls

-All animations are automated and A.I.

-Live Wallpaper is optimized for optimal battery performance

-Superior HD Device Icons and permanent Live Wallpaper (Full Version)

-HD Head Lights (pulse automated and cyclical)

-HD Angel Eyes (Ice Blue)

-HD Head Lights

-HD DOCK

-CHOOSE YOUR OWN WALLPAPER

HOT KEY LIST:

c: Calendar

e: Messages

f: FaceBook

p: Pictures

l: Lock device

m: MySpace

d: App World

o: options

t: Twitter

w: Task

v: Videos

x: SMS

a: audio/ringer volume

y: manage connections

d: app world

BlackBerry support model: 9900 9930 p9981

Thanks and hope you enjoy!