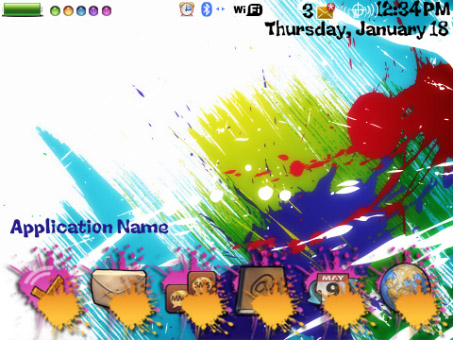 Tag:
Paint
Splash
Overview :
Paint Splash Theme for 99xx bold os7.x
Colors in your Life
IOne introduces a new Colorful and dynamic theme for BlackBerry®.
Make your phone With Colors
Paint Splash brings an elegant, yet aggressive swagger to your BlackBerry®!
Note: Calling Screens are not Customized for OS7 Devices.
To apply theme after successful download and installation:
Navigate to Options - Theme - select newly downloaded theme to apply
Features:
*Colorful icons
*Colorful battery and signal meter
*User friendly Icons
*Fast and snappy
*Clean, simple and professional
*Original visuals

Get this beautiful Paint Splash Theme to your BlackBerry®..
BlackBerry support model: 9900 9930 p9981
Thanks and hope you enjoy!