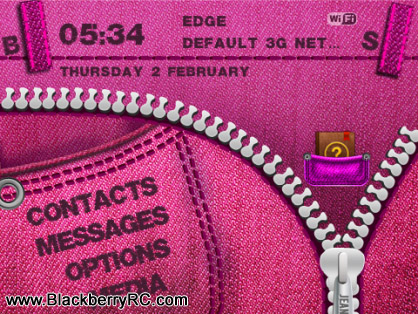 Tag:
Doodle
pink
Jeans
Overview :
Doodle Pink Jeans for 9900, 9930, 9981 themes - Put all icons in your pocket! Free to download this most personalized theme and be cool! ★★Waiting for your Reviews!★★

Version: 1.0.1.2
File Size: 3.28 MB
Compatible: BlackBerry 9930, 9900, 9981

Description:
Unique theme for Jeans Complex and Pink ! Creative layout and innovation design will make your phone screen looks like jeans trousers, the home screen slide SVG and embed original OS7 icon set, will surly satisfy you!
Even with the cool SVG, but it will not delay your system performance! Come and enjoy!
Features:
1. Original doodle style and pink;
2. Creative design, yes, a pair of jeans for you;
3. Easy to operate, and speedy;
4. Unique application screen, put the icons in your screen.
★★Tips: The "B" means Battery, The "S" means Signal, and the thread stand for the volume.
To activate the theme after successfully downloading: Navigate to Options - Theme - Select the desired Theme and activate. To uninstall a theme plz delete it in the application list.