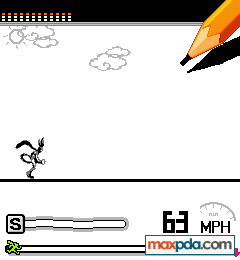 Tag:
8350i games
SKETCHER
Overview :
SKETCHER for blackberry 8350i games
Model:
Blackberry 8350i (320*240) Related Devices Model: 8500, 8520/Blackberry 83XX Series (320*240) Curve Devices Models: 8300, 8310, 8320, 8330 / Blackberry 87XX Series (320*240) Devices Models: 8700c, 8700r, 8700f, 8700g, 8703e, 8707, 8707g, 8707v .etc /Blackberry 88XX Series (320*240) Devices Models: 8800, 8820, 8830 .etc
Description:
Our speedy hero dashes at breakneck speed through a wondrous terrain of doodles, facing gaping holes in the road and treacherous, looming obstacles that he can only avoid with the help of your quick draw skills! Use your pencil to fill in the smooth ramps and clever jumps that will keep Sketcher moving safely through the course, collecting musical notes to replenish his health. Go turbo for added fun and unlock cool mini-games! Play at your own risk.