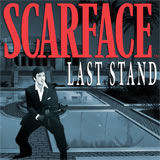 Tag:
Stand
pearl games
Last
Scarface
Overview :
Scarface Last Stand for pearl games

Model:
Blackberry 81XX Series (240*260) Pearl Devices Models: 8100, 8110, 8120, 8130
Description:
Your empire is crumbling, your world is shattered, and now Sosa's army is coming for you; its time to take your last stand.
They wanna play rough? Take out those cockroaches with a variety of weapons: use your rocket launcher, machine guns and more. Move through your mansion and iconic environments from Scarface. The world is yours, but these men are here to take it back! Its time for them to say hello to your little friend!