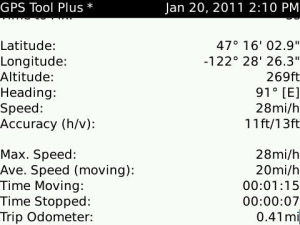 Tag:
GPS Tool
Overview :
free GPSTool Plus v1.5.3 for bb phone apps
OS 5.0,6.0,7.0
size: 79 KB
model: Pearl 9100 3G, Pearl 9105 3G, Curve 8520, Curve 8530, Curve 8900, Curve 8910, Curve 8980, Bold 9000, Curve 9300 3G, Curve 9330 3G, Tour 9630, Bold 9650, Style 9670, Bold 9700, Bold 9780, Bold 9788, Curve 9350, Curve 9360, Curve 9370, Storm 9500/9530, Storm2 9550/9520, Torch 9850/9860, Torch 9800, Curve 9380, Bold 9790, Torch 2 9810, Bold 9900/9930, 9981

Description:
If you liked GPS Tool, GPS Tool Plus offers a trip odometer, the ability to send and save your coordinates, use your fix to get the nearest street address, and custom font family and size on the main display screens.
GPS Tool Plus displays basic GPS information such as location, altitude, speed, and heading. GPS Tool Plus also uses OS 5.0 to show the number of satellites, the signal strength and location of each satellite in a pseudo polar coordinate display. GPS Tool Plus can detect partial and complete fixes, keeps track of the "time to complete fix" and provides some insight into what your GPS is doing as it determines coordinates.
GPS Tool Plus does *not* provide turn-by-turn directions.
Features:
Display coordinates, current speed and direction.
Display coordinates as Degrees, Degrees+Minutes, Degrees+Minutes+Seconds, UTM, or MGRS formats.
Detect Partial and Complete Fixes
Display average signal strength
Keep track of time to complete fix
Display location of GPS satellites on Polar coordinate display
Display individual satellite signal strength.
Send Coordinates and GPS information via E-mail
Save Coordinates and GPS information to a memo.
Track distance and time traveled with a trip odometer.
Map your current fix to the nearest physical address (reverse geocoding, BIS required)
Change the Font family and size on all display screens.
GPS Tool Plus can also serve as a way to start BlackBerry® Maps if there isn't an icon for it on your device. GPS Tool Plus will only work on devices running Handheld Version OS 5.0 or better.
GPS Tool Plus does *not* provide turn-by-turn directions.
If you are having trouble getting a GPS fix, please read the help screen and/or FAQ, and if all else fails use the support button to request support.
come on, download this apps for your blackberry.