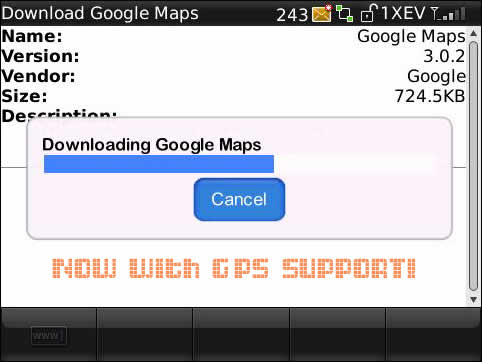 Tag:
Google
Maps
Overview :

Description:
Search for local businesses, and get driving, transit, or walking directions. **
Features:
My Location
See your location on a map, even if you don't have GPS.
Buzz
View what's happening nearby at a glance.
Places icon New!
Find nearby places with the Places icon in your app launcher.
Place Pages
Search for any business or place to find listing info, pictures, reviews & ratings, and more rich details.
Navigation (Beta)
Get turn-by-turn GPS navigation with voice output for driving or walking directions.
Driving directions
Thanks to My Location, you don't even have to enter your starting point.
Transit directions
Get routes and schedules to travel via subway, bus, or on foot.
Latitude
See your friends' locations and share yours with them. Start Maps and then select "Join Latitude."
Biking directions
Get bicycling routes and see available lanes or trails with the Bicycling layer.
Street View
View street-level imagery of businesses and turns in directions.
Layers
Overlay layers on the map (e.g. Traffic, Satellite, search results, and more).
Traffic
Real-time traffic helps you find the fastest route.
Model:
Blackberry 82XX Series (240*320) Pearl Flip Devices Models: 8200, 8220, 8230/Blackberry 8350i (320*240) Related Devices Model: 8500, 8520, 8530, 9300(Kepler), 9330/Blackberry 83XX Series (320*240) Curve Devices Models: 8300, 8310, 8320, 8330 / Blackberry 87XX Series (320*240) Devices Models: 8700c, 8700r, 8700f, 8700g, 8703e, 8707, 8707g, 8707v .etc /Blackberry 88XX Series (320*240) Devices Models: 8800, 8820, 8830 .etc /Blackberry 89XX Curve Series (480*360): 8900(Javelin), 8910(Atlas), 8930, 8950, 8980/Blackberry 90XX Bold (Onyx) Series (480*320) Devices Models: 9000, 9020(Onyx)/Blackberry 96XX Tour (Niagara) Series (480*360):9600, 9630, 9650(Tour2), 9700(Bold2), 9780 /Blackberry 95XX Storm Series (360*480):9500, 9510, 9520, 9530, 9550(Storm2), 9570(Storm3), 9800(Torch)/Blackberry Pearl 3G Series (360*400) Devices Models: 9100, 9105, 9670(Style)