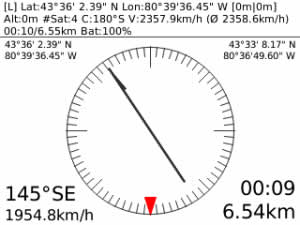 Tag:
Overview :
GPSLogger is a pretty straightforward application – it records your physical movement on your BlackBerry® device over time, including elevation, speed, and some additional data (imperial, metric and nautical).
Additionally, GPSLogger can direct you to a location that you either entered manually or have previously recorded (via the "Guide Me Home" function). This can be quite useful whether you want to locate your car in a big parking lot or you are in the wilderness and have lost your orientation.
As extended functionality to the "Guide Me Home" feature a very easy to use outdoor navigation is integrated into GPSLogger also. As latest addon you can use GPSLogger also as LapTimer - a very powerful feature for all who need to keep track of intermediate timings.
The AllInOne GPS Application
o GPSLogger
o Speedometer
o CarFinder / Bring me Home
o Outdoor Navigation
o Supporting imperial/metric/nautical
o Laptimer
o Import and Export of KML or GPX
o 100% OFFLINE - no data charges
REQUIREMENTS
o A BlackBerry device with a build in GPS Antenna (or a active/already paired Bluethooth GPS-Puck)
o Your provider need to grant access to the GPS-API for 3'rd party Applications (older Verizon Models might be effected)
o Use GPSLogger outdoors - The reception of the GPS signal inside a building can be very bad or even not available at all.
o Configuration of a working directory for GPSLogger
Feedback & Support via our Forum @ http://forum.emacberry.com/viewforum.php?f=198
Additional TEST CENTER Information
Before you leave a negative review it would be very kind if you could visit our forum and check if you will find there additional help or information (or simply post your problem if you find no thread).
When GPSLogger does not work on your device then there might be a reason for this OR (which is most important for me as developer) I would like to get in contact with you in order to find the root of the problem and iron it out (if possible) - TIA
Model:
Blackberry 89XX Curve Series (480*360): 8900(Javelin), 8910(Atlas), 8930, 8950, 8980/Blackberry 90XX Bold (Onyx) Series (480*320) Devices Models: 9000, 9020(Onyx)/Blackberry 96XX Tour (Niagara) Series (480*360):9600, 9630, 9650(Tour2), 9700(Bold2), 9780, Dakota, Apollo