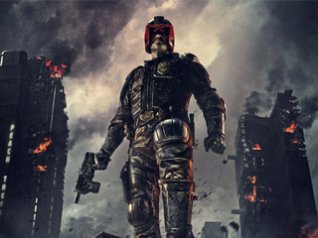 Tag: 640x480 Dredd
Wallpapers Overview:


Dredd (2012)
Also Known As: 2000 AD | Dredd 3D | Judge Dredd

Genre: Action/Adventure, Adaptation, Sci-Fi/Fantasy

Starring: Karl Urban, Olivia Thirlby, Lena Headey

Directors by: Pete Travis

Release Date: September 21, 2012

MPAA Rating: R (for strong bloody violence, language, drug use and some sexual content)

Distributors: Lionsgate

Plot:

The future America is an irradiated waste land. On its East Coast, running from Boston to Washington DC, lies Mega City One – a vast, violent metropolis where criminals rule the chaotic streets. The only force of order lies with the urban cops called "Judges" who possess the combined powers of judge, jury and instant executioner. Known and feared throughout the city, Dredd is the ultimate Judge, challenged with ridding the city of its latest scourge – a dangerous drug epidemic that has users of "Slo-Mo" experiencing reality at a fraction of its normal speed. During a routine day on the job, Dredd is assigned to train and evaluate Cassandra Anderson, a rookie with powerful psychic abilities thanks to a genetic mutation. A heinous crime calls them to a neighborhood where fellow Judges rarely dare to venture – a 200 story vertical slum controlled by prostitute turned drug lord Ma-Ma and her ruthless clan. When they capture one of the clan's inner circle, Ma-Ma overtakes the compound's control center and wages a dirty, vicious war against the Judges that proves she will stop at nothing to protect her empire. With the body count climbing and no way out, Dredd and Anderson must confront the odds and engage in the relentless battle for their survival.


Choose Your Screen Resolution: 320x240 360x480 480x320 480x360 640x480


This wallpapers for use in the following BlackBerry models:
1440x2560 : blackberry priv
1440x1440 : blackberry passport, Q30, Passport Silver Edition
1280x1280 : blackberry z20, z10, q5, q10, classic, leap
1280x1280 : Blackberry Dev Alpha, A10, Z10, Z30, P9982
1024x1024 : Playbook
720x720 : Blackberry Q10, Q5, Q20, P9983
640x480 : 9900, 9930, P9981
480x800 : 9860 Monza, Storm3 Monaco
480x640 : Torch2 9810
480x360 : 8900, 8910, 8930 Curve2, 8950, 8980, Onyx 9020, 9220, 9350 Sedona, 9370 Apollo, 9600, 9630, 9650, 9650x, 9700, 9720, 9780, 9788, 9790(OS 7)
360x400 : Style 9670, Pearl 3g 9100, Pearl 3g 9105
360x480 : 9500, 9510, 9520(storm2), 9530, 9550(storm2), 9570(Storm3), 9630, 9800, Curve Touch
480x320 : 9000, 9020
320x240 : 8110, 8300, 8310, 8320, 8330, 8350i, 8500, 8520, 8530, 8700, 8700c, 8700f, 8700g, 8700r, 8703e, 8707, 8707g, 8707v, 8800, 8820, 8830, 9300, 9330(Curve)
More BlackBerry Wallpapers all in BlackBerryRC.com

BlackberryRC.com Remind You
Permanent site at BlackBerryRC.com (BlackBerry + RC) Please click it, Add to Favourites visit it next time conveniently!