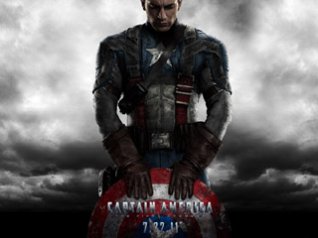 Tag: Captain America
Wallpapers Overview:


The First Avenger: Captain America
Budge Barnes was originally an orphan, his father is a soldier, died in training accidents. Bach grew up in the barracks from the urine, the U.S. military in World War II, he could not because the army is too young to fight, but he followed the troops to the front, became the army's "mascot." He found that "Captain America" ​​after the true identity of Steve Rogers, begged it to yourself to stay at his side when he was an assistant. Bach was later to save the "Captain America" ​​and died years later of people saved by the Soviet Union, became an assassin "winter soldiers." "Winter Soldiers" to help the Soviet Union did a lot of things, the last being "Captain America" ​​wake-up to restore the memory. Steve Rogers died, he inherited the "Captain America" ​​mantle.


Choose Your Screen Resolution: 320x240 360x480 480x320 480x360


This wallpapers for use in the following BlackBerry models:
1440x2560 : blackberry priv
1440x1440 : blackberry passport, Q30, Passport Silver Edition
1280x1280 : blackberry z20, z10, q5, q10, classic, leap
1280x1280 : Blackberry Dev Alpha, A10, Z10, Z30, P9982
1024x1024 : Playbook
720x720 : Blackberry Q10, Q5, Q20, P9983
640x480 : 9900, 9930, P9981
480x800 : 9860 Monza, Storm3 Monaco
480x640 : Torch2 9810
480x360 : 8900, 8910, 8930 Curve2, 8950, 8980, Onyx 9020, 9220, 9350 Sedona, 9370 Apollo, 9600, 9630, 9650, 9650x, 9700, 9720, 9780, 9788, 9790(OS 7)
360x400 : Style 9670, Pearl 3g 9100, Pearl 3g 9105
360x480 : 9500, 9510, 9520(storm2), 9530, 9550(storm2), 9570(Storm3), 9630, 9800, Curve Touch
480x320 : 9000, 9020
320x240 : 8110, 8300, 8310, 8320, 8330, 8350i, 8500, 8520, 8530, 8700, 8700c, 8700f, 8700g, 8700r, 8703e, 8707, 8707g, 8707v, 8800, 8820, 8830, 9300, 9330(Curve)
More BlackBerry Wallpapers all in BlackBerryRC.com

BlackberryRC.com Remind You
Permanent site at BlackBerryRC.com (BlackBerry + RC) Please click it, Add to Favourites visit it next time conveniently!