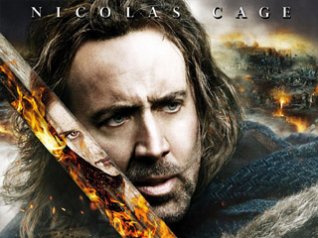 Tag: Season Witch
Wallpapers Overview:


Season of the Witch (2011)

Genre: Drama and Suspense/Horror

Starring: Nicolas Cage, Ron Perlman, Stephen Campbell Moore, Claire Foy, Ulrich Thomsen

Director: Dominic Sena

Produced by: Alan G. Glazer, Adam Goodman (III), Tom Karnowski

Release Date: January 7th, 2011 (wide)

Distributors: Relativity Media

MPAA Rating: PG-13 for thematic elements, violence and disturbing content.

Plot:

A medieval knight undertakes a mission pitting him against a devious witch and making him the last hope for the world against an ancient and dark force. His faith broken by years of battle as a crusader, Behmen returns to central Europe to find his homeland decimated by the Black Plague. While searching for food and supplies at the Palace at Marburg, Behmen and his trusted companion, Felson are apprehended and ordered by the dying Cardinal to deliver a young peasant girl – believed to be the witch responsible for the Plague – to a remote abbey where her powers can be destroyed. Behmen agrees to the assignment but only if the peasant girl is granted a fair trial. As he and five others set off on this dangerous journey, they realize with mounting dread that the cunning girl is no ordinary human, and that their mission will pit them against an evil that even in these dark times they never could have imagined.


Choose Your Screen Resolution: 320x240 360x480 480x320 480x360
This wallpapers for use in the following BlackBerry models:
1440x2560 : blackberry priv
1440x1440 : blackberry passport, Q30, Passport Silver Edition
1280x1280 : blackberry z20, z10, q5, q10, classic, leap
1280x1280 : Blackberry Dev Alpha, A10, Z10, Z30, P9982
1024x1024 : Playbook
720x720 : Blackberry Q10, Q5, Q20, P9983
640x480 : 9900, 9930, P9981
480x800 : 9860 Monza, Storm3 Monaco
480x640 : Torch2 9810
480x360 : 8900, 8910, 8930 Curve2, 8950, 8980, Onyx 9020, 9220, 9350 Sedona, 9370 Apollo, 9600, 9630, 9650, 9650x, 9700, 9720, 9780, 9788, 9790(OS 7)
360x400 : Style 9670, Pearl 3g 9100, Pearl 3g 9105
360x480 : 9500, 9510, 9520(storm2), 9530, 9550(storm2), 9570(Storm3), 9630, 9800, Curve Touch
480x320 : 9000, 9020
320x240 : 8110, 8300, 8310, 8320, 8330, 8350i, 8500, 8520, 8530, 8700, 8700c, 8700f, 8700g, 8700r, 8703e, 8707, 8707g, 8707v, 8800, 8820, 8830, 9300, 9330(Curve)
More BlackBerry Wallpapers all in BlackBerryRC.com

BlackberryRC.com Remind You
Permanent site at BlackBerryRC.com (BlackBerry + RC) Please click it, Add to Favourites visit it next time conveniently!