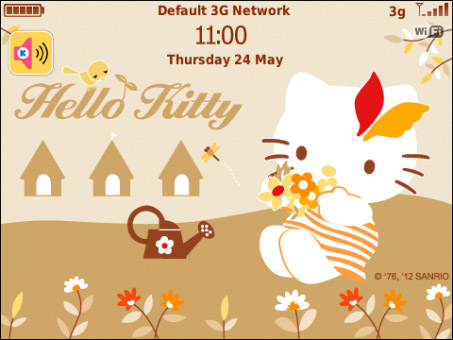 Tag:
HelloKitty
Overview :
New arrival Theme of Hello Kitty is here!!!
Hello Kitty, an adorable white cat from Sanrio, loves autumn so much. The beautiful changing colors that autumn brings are worth waiting for. Try a new "Hello Kitty" theme and you're gonna fall in love with her.
***IMPORTANT***
This theme supports BlackBerry OS Version above 4.6, 5.0, 6.0 and OS 7 ; BlackBerry 9900, 9360, 9380, 9850, 9860, 9810, 9220, 9800, 9780, 9700, 9650, 9330 and more.
Please note that for OS7, users can't change background photo apart from the default theme and the background theme will not show in the incoming call page.
** Sample of screenshots may different from the version you download, as we don't provide screenshots of every BlackBerry models!!
Features:
1. Background on all screens.
2. All system icons including messages, browser, contacts, calendar, profile, alert icons set and more.
3. Menu colors, highlights, profile popup Fonts.
4. Quick link to support site and more!