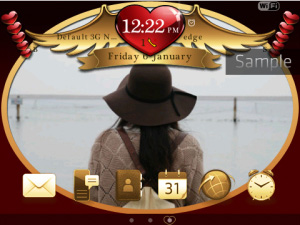 Tag:
love
Valentine
Eternal
Overview :
This a very good Valentine's Day themes(os4.6-7.0), Recommend.
Description:
MMMOOO Unique Gift for Valentine's Day!!! ★★★Free in Limited Time!★★★
Love Eternal is a theme more perfect than the default in your device, and it is customized for Valentine's Day!
Unique Features:
1. Layout is wallpaper friendly, you could set you and your honey's picture as wallpaper, which will be compatible with the layout very well;
2. 3 Optional Layout, all are premium design, just like 3 themes in one!
3. A fresh OS7 icon in sepia, for your own romantic;
4. Very smooth to run, will not slow the system performance.
Tips:
For OS7 devices, does not support the layout features, instead, we prepare another perfect Valentine's day wallpaper and icons, just come to enjoy!
To activate the theme after successfully downloading: Navigate to Options - Theme - Select the desired Theme and activate. To uninstall a theme plz delete it in the application list.
Guarantee satisfaction:
If you find a bug or have a feedback, kindly write email to us, we can assist you well or provide revision asap, because we could not reply App World Reviews. Let's make a great app together! :)



model:
BlackBerry 8220
BlackBerry 8230
BlackBerry 8230f
BlackBerry 8350i
BlackBerry 8520
BlackBerry 8530
BlackBerry 8900
BlackBerry 8910
BlackBerry 8980
BlackBerry 9000
BlackBerry 9100
BlackBerry 9105
BlackBerry 9300
BlackBerry 9330
BlackBerry 9350
BlackBerry 9360
BlackBerry 9500
BlackBerry 9520
BlackBerry 9530
BlackBerry 9550
BlackBerry 9630
BlackBerry 9650
BlackBerry 9670
BlackBerry 9700
BlackBerry 9780
BlackBerry 9788
BlackBerry 9800
BlackBerry 9810
BlackBerry 9850
BlackBerry 9860
BlackBerry 9900