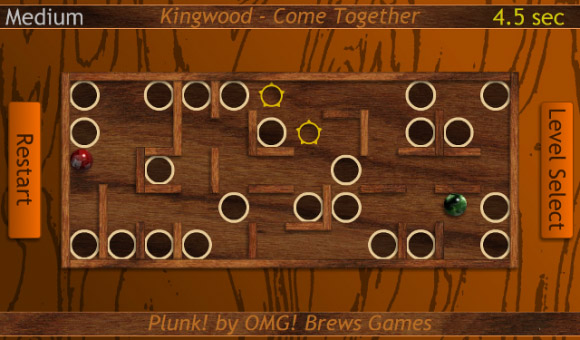 Tag:
PlayBook
Plunk
Overview :
free Plunk 1.1.0 game for playbook

File Size: 3 MB
Model:
Blackberry Playbook
Description:
Plunk! the marble game by OMG! Brews Games:
Inspired by handcrafted puzzles, each Plunk! level challenges you to navigate gorgeous marbles through a wooden labyrinth. Tilt your PlayBook in all directions and use gravity to roll the marbles past holes and into their targets.
The first levels will test your hand-eye coordination as you maneuver one marble around, between and sometimes over fiendishly placed holes. Afterwards, the difficulty escalates as two, three, four or more simultaneous marbles force you to come up with increasingly complex plans.
This release of Plunk! contains a total of eighty-four puzzles with more already in the works for future updates.
Update 1.1 improvements include:
Two new level packs
Automatically loads from last level played
More responsive gameplay on multi-marble levels
Additional minor bugs fixed