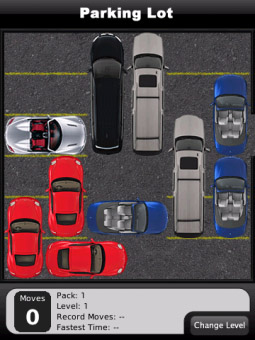 Tag:
Parking Lot
Overview :
A practice game - Parking Lot, Friends who can drive can install to play to find the difference with the real car, believe that after the repeated practice, it will give you a bigger help and technology promotion when you back a car into the crowded parking lot .
Version: 1.1
File Size: 269 KB
Required: BlackBerry Device with Resolution 360 x 480 OS 5.0 or Higher
Description:
Parking Lot brings the classic sliding block puzzle to your BlackBerry. Get your white sports car to the exit of the crowded parking lot by sliding all the other cars out of the way. Vertical cars can move up and down, while the horizontal cars can move left and right. It may look easy at first, but think again! Each parking lot level is a brand new challenge that will put your puzzle solving skills to the test. Keep in mind that you are being timed, and the counter at the bottom is keeping a tally of how many moves you make. How many moves and how long will you take to beat every level?
NOTE: For those saying that some puzzles are not solvable, we can assure you that they can all be solved
Check out Tafasa's other great apps:PatternLock, Connect Four, Bubble Burst, Doodle, WordSearch, Hangman, Memory, Flight Path, PatternLock Lite, Lights Out
Features:
- Packed with 400 levels organized in 10 different packs!
- Saves the fastest time and record number of moves for each level
- Shake the device while playing to restart the level
- Endless fun!