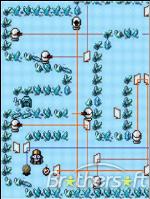 Tag:
Robo2
Overview :
Model:
Blackberry 72XX Series (240*160) Devices Models: 7200, 7210, 7230, 7250, 7270, 7280, 7290, 7510, 7520, 6510
Description:
Robo 2 is a sequel to a popular puzzle Robo played by millions of cellphone game addicts worldwide. The game is a witty collection of carefully crafted levels and game object, which have to be moved correctly to let Robo pass safely to the next level.
Robo has to save Eny, who is kept in a military compound, protected by lasers. In order to move, Robo has to block laser beams that guard all passageways or destroy laser cannons. This objective can be reached by moving stones to block laser beams, using bombs to explode laser cannons or (for the gaming Einsteins) making cannons destroy each other.
The game rules are very simple, but the game itself is not, because bombs and stones are very scarce. A new important addition to this new version is a Java-based level editor that can be used to create new levels. Game owners may download this levels right from inside the game.