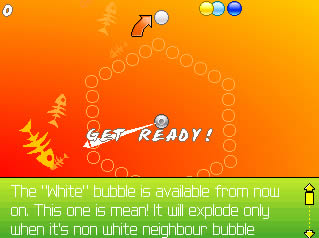 Tag:
Explode
Overview :
Model:
Blackberry 8350i (320*240) Related Devices Model: 8500, 8520, 8530/Blackberry 83XX Series (320*240) Curve Devices Models: 8300, 8310, 8320, 8330 / Blackberry 87XX Series (320*240) Devices Models: 8700c, 8700r, 8700f, 8700g, 8703e, 8707, 8707g, 8707v .etc /Blackberry 88XX Series (320*240) Devices Models: 8800, 8820, 8830 .etc
Description:
Explode! is a casual, ?easy to play – hard to master" game Its addictive, perfectly balanced game-play and intuitive controls makes it a true world-class puzzle genre game.
The aim of the game is to gather falling bubbles that are attracted to the center bubble. When at least three bubbles of the same color are sticking together and the rotating radar will touch any of them, they will Explode!
Key Brand Strengths:
* 12 progressive levels in main mode.
* 4 game modes: main, Time attack, Puzzle and Freestyle.
* Unlock new music and new backgrounds.
* Tutorial and in-game tips for easy pick-up and play.