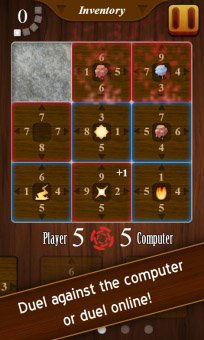 Tag:
Feith
Overview :
Feith 1.0 for blackberry 10 games
Now for BlackBerry 10!
Feith is a card game where your basic math skills and a pinch of luck can bring you victory.
-Play against a computer who takes advantage of your mistakes...
-Play online with friends or a random stranger.
-Bet and win cards!
-Save your cards and stats on the cloud, and get them everywhere!
-Earn a place on the Feith Ranking.
-Use Effect Cards to alter the course of the game!
-Craft new Effect Cards at the Card Workshop with the help of Materials you win at Online matches.
-Replay past online matches and watch your opponent's strategy.
-Find easter eggs and discover events that happen on certain days!
-Have your own profile to show off your cards and stats at http://feith.imeev.com/.
-Trade cards over the web with your friends!
-Over 50 Achievements/Trophies to collect!
-Compatible with Z10, Z30, Z3, Porsche Design, Q5, Q10 and future devices!
If you find a bug, please report it to the following mail before leaving feedback: feith@imeev.com
Its important you include the device model.
Supported Devices:
BlackBerry Q10
BlackBerry Q5
BlackBerry Z10
BlackBerry Z3
BlackBerry Z30
Porsche Design P9982